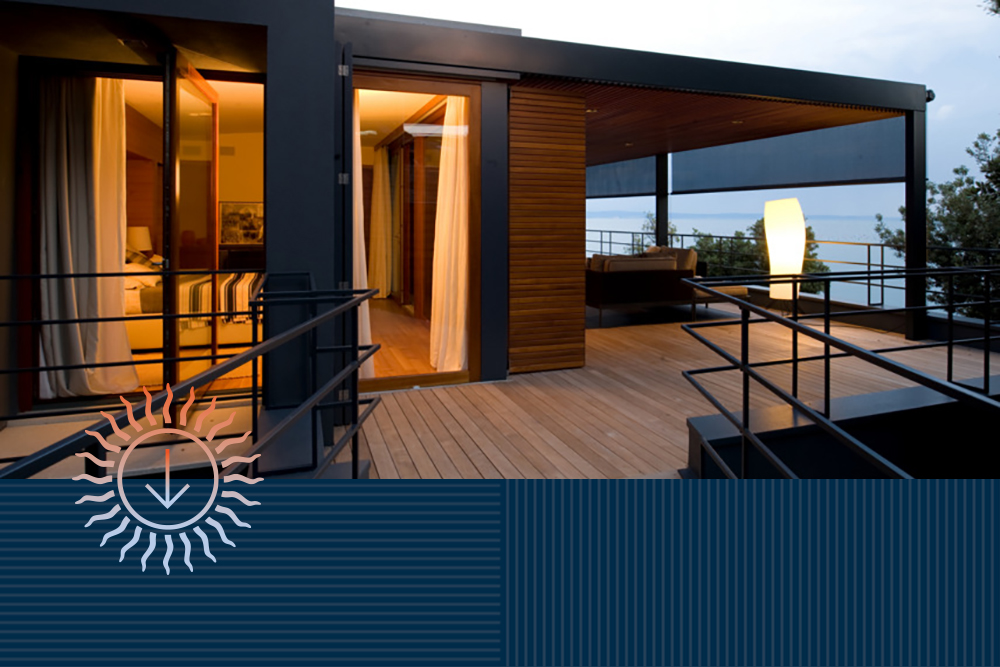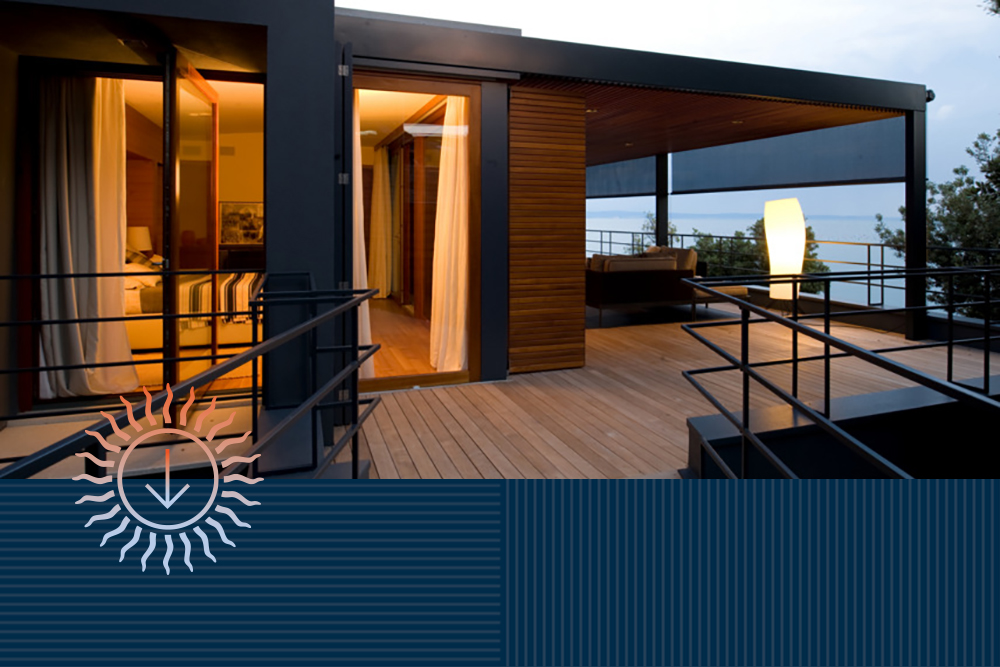 The soothing rays of the sun can quickly overheat a home's interior spaces and damage the colors in flooring, fabrics, furniture, and art.
Thankfully, homeowners have access to a wide variety of custom window treatment options—including shades, blinds, and shutters—to help them manage sunlight exposure. 
There's no one-size-fits-all option. Each system offers unique aesthetic and functional characteristics, as well as potential limitations.
While most window treatments cover the interior of windows, exterior shades are worth considering if heat control is a primary goal. 
The U.S. Department of Energy estimates that 76% of the sunlight that reaches standard double-pane windows and enters a home will turn into heat. But exterior window coverings serve as an effective sunscreen that reflects and absorbs the sun's energy before it can penetrate the home. As a result, exterior shades can help keep interior spaces comfortable, lower cooling costs, and improve overall energy efficiency. 
Bay Shades' product offerings include exterior roller shades for covering windows, decks, porches, pergolas, and other enclosed patio structures. Available in a wide variety of fiberglass, polyester, and heavy-duty fabric options, these systems are designed to control heat and glare while maintaining views and connections to the outdoors.
And it's not unusual for homeowners to choose more than one solution to align with the size, shape, and orientation of the home's windows and outdoor spaces. In general, south-facing windows and outdoor spaces experience the greatest total sunlight exposure and west- or east-facing homes receive the most morning or afternoon sun.
Wind, Power, and Aesthetic Considerations 
While exterior shade systems are built to withstand the elements, they aren't practical in high-wind locations. When wind speeds reach or exceed 25 miles an hour, the shades need to remain in the raised position to keep them secure. Several manufacturers do offer wireless wind sensors that automatically detect the wind speed and retract the shades to protect them from damage. 
For motorized shade systems, outside power is another consideration. Electrical junction boxes must be carefully installed to ensure the home's waterproofing system isn't compromised and exterior siding or stucco isn't damaged unnecessarily. 
Non-motorized exterior shades are also an option, though operating a manual crank can be cumbersome, particularly for larger, heavier shades. And manual exterior shades aren't usually an ideal solution for door openings, unless there's another door close by that can be accessed when the shades are lowered.  
Homeowners also need to be aware of the individual components involved in installing exterior roller shade systems. These include a hem bar, cable guide, and side channels to ensure smooth operation of the shades. 
Security Shutters Provide Additional Benefits
Rolling exterior security shutters are another practical option if a homeowner is seeking to block both light and noise while enhancing overall security. 
 Anyone who has an atypical work schedule or travels frequently might opt to install security shutters on their bedroom windows to promote more restful sleep by blocking out outside light, noise, and excess heat.
Bay Shades is skilled at helping homeowners identify the window covering products that best meet their functional goals, aesthetic preferences, and budget. Clients often comment that they like working with Bay Shades because they know the job will get done right.
Learn more about our exterior product options
We team with Insolroll for exterior shades.
Let Bay Shades bring elegance and performance to your custom shading solution.
310-828-7998