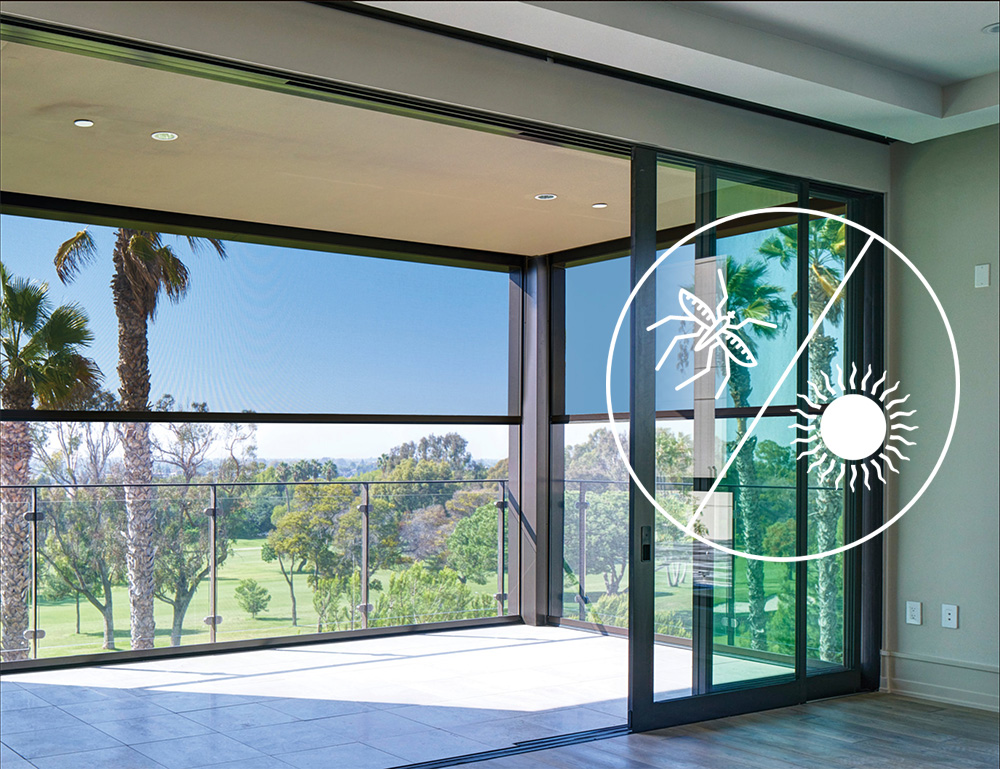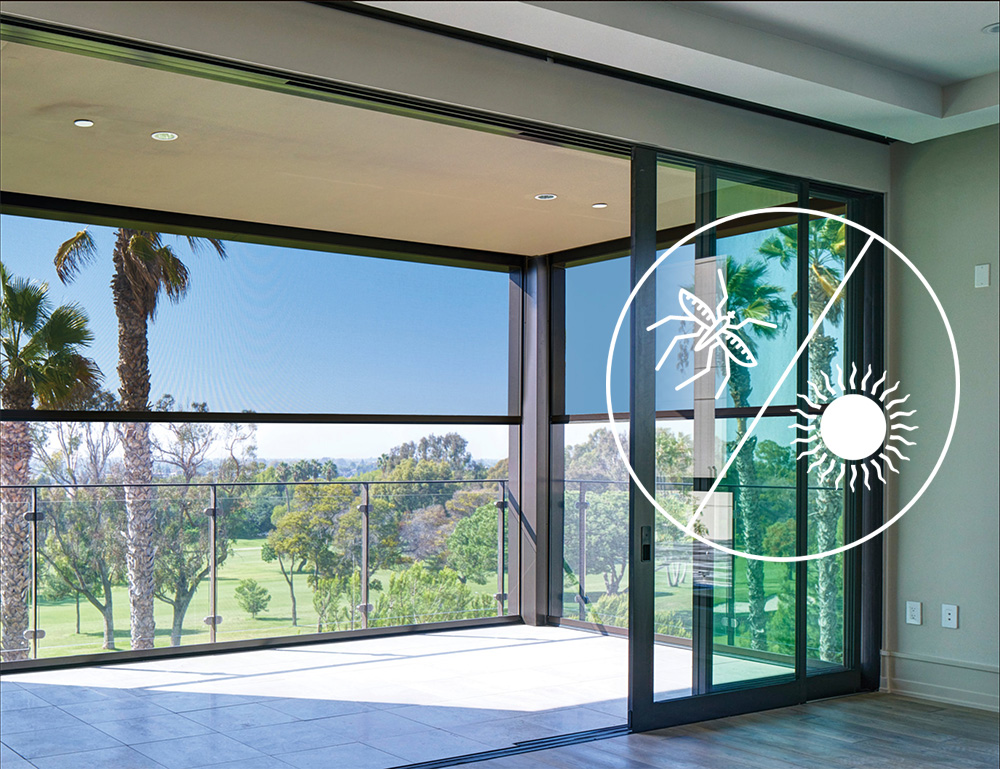 As summer kicks into high gear, homeowners can take full advantage of the indoor-outdoor living spaces they love so much. 
But balmy breezes are often accompanied by a summer staple that's far less welcome: flying pests. 
California's mosquito population has increased tenfold over the last five decades, according to a study by UC Santa Cruz. This population boom includes a growing number of aggressive, non-indigenous species that transmit a host of diseases—from Zika and West Nile virus to yellow fever and parasitic canine heartworm. 
Luckily, homeowners have a practical, effective weapon for protecting their families against these annoying bugs.
Retractable insect screens can transform open-air spaces into bug-free zones. They pair perfectly with movable glass walls, covered patio openings, outdoor kitchens, garage door openings, and other open-air living environments.
At the touch of a button, these motorized screens descend from the ceiling to provide on-demand bug protection while maintaining fresh air and scenic outdoor views. A single screen can cover oversized openings. When lowered, all four sides of the screen remain tightly sealed, keeping bugs out.
And when insect protection isn't needed, the custom-made screens just disappear into the ceiling to await their next deployment.
Beyond bug control, insect screens can also help manage issues with annoying glare. If additional sun protection is desired, homeowners can select from a variety of denser solar screen fabrics that guard against excess glare, UV rays, and solar heat gain. Or if more privacy is the goal, there are more translucent fabrics available, as well as water-resistant fabrics that can help extend the outdoor living season.
Insect screens also offer a bonus benefit of shielding occupants from wayward golf balls, making them even more of a practical investment for those dwellings in close proximity to a golf course. 
For more than 30 years, Bay Shades has installed custom rolling shade products from Insolroll, a Colorado-based company with a diverse product line, quick delivery, and top-notch customer support. Our team has extensive hands-on experience installing insect screens in a variety of applications, including recessed, inside, and outside mounted.
We work closely with contractors, architects, and designers to ensure their homeowner clients choose the most effective products that will enable them to fully enjoy all of their indoor-outdoor living spaces.
Let Bay Shades bring elegance and performance to your custom shading solution.
310-828-7998